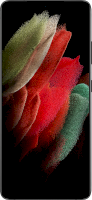 The Galaxy S21 Ultra and the Galaxy Note 20 Ultra are the latest and most high-end phones available right now in Samsung's Galaxy S and Note lineups. The Galaxy Note 20 Ultra is more than six months old, even though it will continue to be the premier Galaxy Note offering until at least late next year, as there's no new Galaxy Note flagship coming in 2021. The Galaxy S21 Ultra has the advantage of being a newer phone, so there's no chance the Galaxy Note 20 Ultra can stand up against it, right?
Well, the answer's not so clear-cut, not least because the two belong to different lineups. And to tell you exactly how the two match up here in 2021 and to make it easier for you to decide whether you should get the Galaxy S21 Ultra or the Galaxy Note 20 Ultra, we've published a brand new video on our YouTube channel that you can check out below.
And for those wondering: Yes, SamMobile TV is back! We'll be creating many new videos in the coming weeks and months to get you your Samsung fix, so be sure to hit the subscribe button on our YouTube page and press that bell icon so you can stay up-to-date with all our future content.